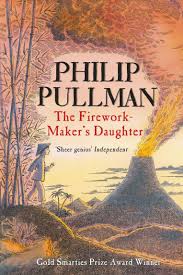 This half term, Year 4 will be reading 'The Firework Maker's Daughter' by Phillip Pullman.
The story is a wonderful adventure which mixes old and modern fairy tales together. It features the main character Lila, who is on a quest to follow in her father's footsteps and become a great firework maker. She must journey to get Royal Sulphur from Razvani the Fire-Fiend at Mount Merapi, a journey which is filled with peril and wonder.
For the first few weeks Year 4 will be focussing on character descriptions of the main character and letter writing to Lila's father using the skills we developed in the first half term. We will then learn about the features and structure of a narrative. We will write setting descriptions and include them when we write a missing chapter about the Fire-Fiend.
Watch a reading of the story below:
Some contents or functionalities here are not available due to your cookie preferences!
This happens because the functionality/content marked as "Google Youtube" uses cookies that you choosed to keep disabled. In order to view this content or use this functionality, please enable cookies: click here to open your cookie preferences.