Mrs Lauderdale ran an assembly to kick start British Science Week on Monday. The theme this year is Exploration and Discovery and the children were shown videos of past and current discoveries throughout our Earth and beyond. Each class has been assigned an experiment to complete during the week. Watch this space to find out more!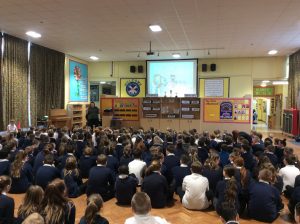 Click the British Science week Logo to find out more


The Experiments
For British Science Week Class 9 had an exciting lesson on Monday discovering 'Poo from the Past'. They became archaeologists who delved deep into historical 'poo' to discover which period of history it was from. Their investigation uncovered that the poo was from Eric the Viking! An extremely engaging and funny experiment!
During Science week, Year 3/4 learnt about minibeasts. Using magnifying glasses and special tools, the children investigated the different microhabitats in and around the school.
Year 2 have been investigating which material would be best to make an astro-nappy. We watched footage of Tim Peake completing his historic space walk and realised he would have had a problem if he needed to go to the toilet! We planned an experiment to test the absorbency of different materials. As part of our planning, we thought about how to keep our test fair. Using a pipette, we dropped one drop of water at a time onto the material and counted how many drops of water it took before the water soaked through the material. After presenting our results in a bar chart, we concluded that cotton wool would be the best material to make the nappy because it was the most absorbent.
Year 6 have thoroughly enjoyed British Science Week. They were tasked with becoming  Citizen Scientists for The Plastic Tide, a movement against the rising tide of plastics around the world. They trained the computer program to find plastics automatically by tagging any plastics found on UK beaches using the drone images.
The children created a large 3D poster of a beach using plastics and other rubbish – this will be displayed in the hall.
This exciting and forward thinking campaign is important for the future of our World and therefore our children. We have been shocked by the images and videos of the plastic pollution in our oceans, but inspired to help the cause. You too can help, please visit www.theplastictide to take part.
As part of British Science week Year 5 looked at coding and specifically how to debug a problem. The children loved putting their knowledge of scratch to use, we may have the next Bill Gates amongst us!
Year 1 had an exciting week discovering Brilliant Birds! We looked at this scenario:
Local birdwatcher Mrs Twitcher is an expert on birds' nests. "I think birds are brilliant, but I don't think people can build nests like birds do." Do you think Mrs Twitcher is right?
The children became 'magpies' and collected suitable materials from the school grounds to make birds nests. They then tested the nests to see which materials were best for cosiness, wind proofing and water proofing. What a fun activity!
The Reception children had a special BSW learning challenge.  They were invited by their teachers to take part in the enquiry "How can you make bubbles?"  Some children chose to investigate how to make a good bubble mixture, while others investigated how to make a good bubble wand.  The children all wondered, predicted, tested and evaluated their work. We found that to make a bubble solution effective two of the the 'magic' ingredients were glycerine and cornflour.