As part of the rich and varied curriculum provided for pupils at West Boldon Primary, our goal is that all Key Stage 2 children will study French on a weekly basis, in accordance with the National Curriculum statutory requirements (September 2014). Teachers will follow the units set out by the Primary Languages Network programme of study, which provides a sequence of lessons which are in line with the National Curriculum.
'A high-quality languages education should foster pupils' curiosity and deepen their understanding of the world. The teaching should enable pupils to express their ideas and thoughts in another language and to understand and respond to its speakers, both in speech and in writing. It should also provide opportunities for them to communicate for practical purposes ' (National Curriculum 2013).
As some of our children may learn foreign languages other than French at Key Stage 3 and beyond, we aim to provide them with an understanding of the typical grammatical features of common European languages, such as adjectival agreement, e.g. the blue eyes translating as les yeux bleus (the eyes blue). Such understanding will form the foundations for skills which are transferable to the learning of other languages.
'Language teaching should provide the foundation for learning further languages, equipping pupils to study and work in other countries.'
(National Curriculum, 2013)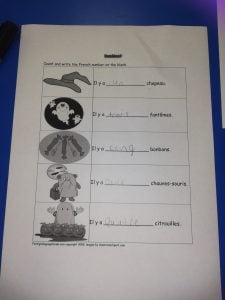 Starting in the second half of the Autumn term, children in EYFS and Key Stage 1 will also have access to French sessions, beginning with Reception units in a three year plan, by the end of which all children will be studying the correct stage for their year group.

Subject Ambassadors
Our Subject Ambassadors are chosen children who are experts in French, or children who have a real passion for the subject. Our Subject Ambassadors for French 2021/22 are:
Year 6: Hannah & Rose
Year 5: Frankie & Harry
Year 4: Keira & Elliot
Year 3: Harry & Evie M
Find out more about Subject Ambassadors by clicking here.
What our children say…
(Click to enlarge)
---
Important links…
Take a look at our French Curriculum documents by clicking the links below.
---
Take a look at our learning…
Click the links below to see what we've been learning about in French in each year group.
---