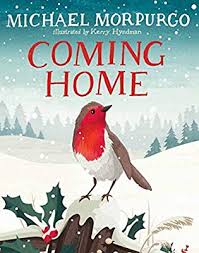 As we run up to Christmas time, Year 2 will be reading the festive story 'Coming Home' by Michael Morpurgo.
It is an exciting adventure story about a brave little robin's long journey home battling through storms, oceans and terrifying hawk attacks.
During the half term we will be writing non chronological reports about robins, diary writing from different characters perspectives and retelling scenes using exciting verbs. In line with Talk for Writing, we will be retelling the story using actions and phrases before innovating the story and changing different elements to create our own narrative.
Here is a video of author Michael Morpurgo telling the story:
Some contents or functionalities here are not available due to your cookie preferences!
This happens because the functionality/content marked as "Google Youtube" uses cookies that you choosed to keep disabled. In order to view this content or use this functionality, please enable cookies: click here to open your cookie preferences.