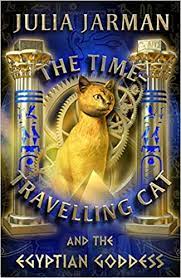 This half term, Year 4 are reading The Time Travelling Cat and the Egyptian Goddess by Julia Jarman. The children will be reading the book which links with our history topic Ancient Egypt. We hope this book will engage the children and encourage a love of reading and learning about history.
Topher and his father are trying to get over the death of Topher's mother, an Egyptologist, when they take in a stray cat. This cat bears an uncanny resemblance to a cat ornament given to Topher by his mother and so they name it 'Ka', meaning 'double'. Topher becomes very attached to Ka and is puzzled by her mysterious absences. One day when he is playing a computer game with an Egyptian theme, Ka jumps on the keys and spells out the name Bubastis, which was the centre of cat worship in Ancient Egypt. Could Ka really be leading a double life and what is she trying to tell Topher?
The children are already very engaged in our new book and are already creating ideas and predictions about Ka and how the goddess is involved. We will be using the book and our new knowledge from our history topic 'life in ancient Egypt' to help us write diaries and non-chronological reports.
Big Writes (final pieces)
Diary Entry
Non-Chronological Reports
National Curriculum Links
Writing composition:
Pupils should be taught to: plan their writing by:  discussing writing similar to that which they are planning to write in order to understand and learn from its structure, vocabulary and grammar  discussing and recording ideas
draft and write by: composing and rehearsing sentences orally (including dialogue), progressively building a varied and rich vocabulary and an increasing range of sentence structures
organising paragraphs around a theme in narratives, creating settings, characters and plot  in non-narrative material, using simple organisational devices [for example, headings and sub-headings]
evaluate and edit by: assessing the effectiveness of their own and others' writing and suggesting improvements  proposing changes to grammar and vocabulary to improve consistency, including the accurate use of pronouns in sentences  proof-read for spelling and punctuation errors
read aloud their own writing, to a group or the whole class, using appropriate intonation and controlling the tone and volume so that the meaning is clear
Vocabulary, grammar and punctuation:
indicate grammatical and other features by: using commas after fronted adverbials
indicating possession by using the possessive apostrophe with plural nouns using and punctuating direct speech
 Writing- Transcription:
use further prefixes and suffixes and understand how to add them (English Appendix 1)
spell further homophones
spell words that are often misspelt (English Appendix 1)
place the possessive apostrophe accurately in words with regular plurals [for example, girls', boys'] and in words with irregular plurals [for example, children's]
Here is a video of chapters 1-3.
Some contents or functionalities here are not available due to your cookie preferences!
This happens because the functionality/content marked as "Google Youtube" uses cookies that you choosed to keep disabled. In order to view this content or use this functionality, please enable cookies: click here to open your cookie preferences.