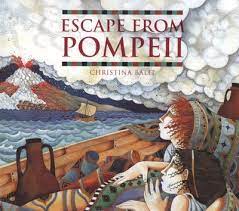 In Year 3 this half term we are going to be reading Escape from Pompeii by Christina Balit.
The story tells the tale of two children forced to flee their beloved Pompeii when Mount Vesuvius erupts. While reading this book the children will be writing setting descriptions of Pompeii before, during and after the eruption, as well as writing newspaper reports of the events of that fateful day in 79AD.
The children are already so engaged with this story, asking lots of questions and linking their understanding of the story to their knowledge of volcanoes (our current Geography topic). We are so excited to keep reading this story!
Some contents or functionalities here are not available due to your cookie preferences!
This happens because the functionality/content marked as "Google Youtube" uses cookies that you choosed to keep disabled. In order to view this content or use this functionality, please enable cookies: click here to open your cookie preferences.